Nif_H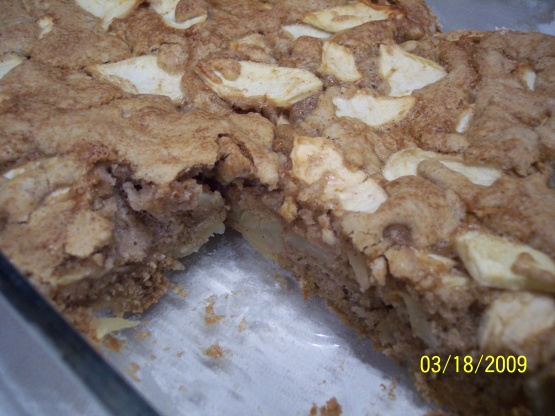 Every time I make this super-moist yummy cake it disappears in record time! The phrase that I usually hear when someone tries some for the first time is, "Oh my goodness, what is this stuff?!!" ...as they reach for another piece!

This is good, but very unsightful. Once you get past the appearance, then the taste is great. However, I would not serve at a party or such. However, this is great for close friends and family.
Preheat oven to 350 degrees.
Grease and flour 13x9 inch pan.
Peel and slice the apples. Slices can be 1/8 of an inch or so.
Stir lemon juice into apples and let sit while you prepare the rest of the cake.
Combine eggs, sugar, oil and vanilla.
Combine dry ingredients and add to batter.
Stir in apples.
Spread into 13x9 pan and bake at 350 degrees for 30-40 minutes or until center of cake is set.