jenne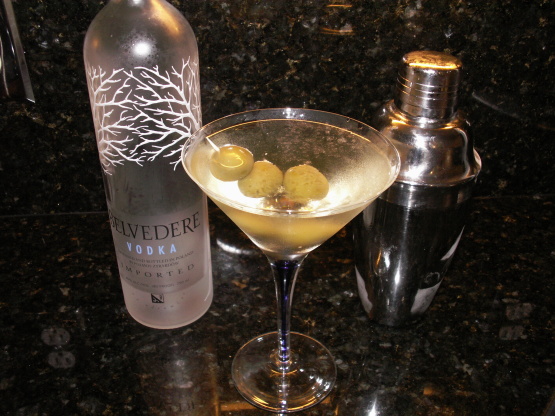 Too strong for me, but my hubby is a fan! He enjoys his straight up with blue cheese stuffed olives and a cigar in hand.
1⁄2 cup premium vodka (Belvedere or Kettle One are great)

4

teaspoons olive juice

3

blue cheese stuffed olives (on a toothpick)
ice
Place ice to the brim of your martini glass and top off with ice cold water. Let glass chill while you make the martini.
Pour vodka and olive juice in a martini shaker. Drop in about 10 ice cubes and put the top on the shaker.
Shake the martini shaker hard and quickly for about 10-15 seconds.
Pour the ice water out of the martini glass and pour the vodka martini into the glass. Drop the toothpick with olives into the martini and serve.