gailanng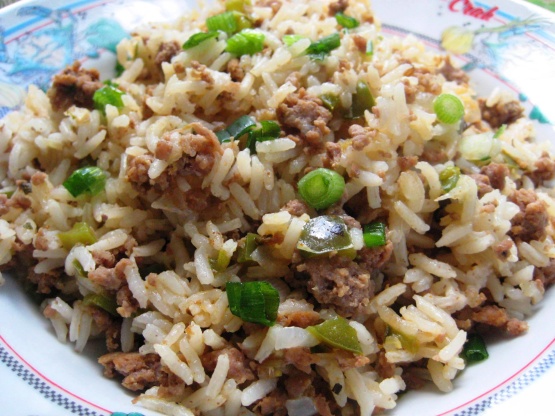 I don't do "parts" but love shrimp and the flavors in dirty rice. This comes from Food and Wine.

Fantastic! Didn't have any shrimp on hand so I just used beef sausage, left the celery out, but added broccoli. The flavor was phenomenal. Just enough of a 'kick' to make it really exciting, but not so spicy that we couldn't feed it to the kids. AMAZING recipe. I'll be making this again and again. Ty for posting.
Heat 1 Tbsp of oil at medium. Add pork and cook until no longer pink (2 minutes).
Reduce heat to medium low and add remaining oil. Add onion, celery, bell pepper and garlic. Cover and cook, stirring occasionally, until veggies start to soften (about 5 minutes).
Stir in cayenne, paprika, oregano, bay leaf, salt, black pepper and rice. Cook and stir for 1 minute.
Add broth. Bring to boil, reduce heat and simmer, covered for 15 minutes.
Turn heat back up to medium and stir in shrimp. Cover and cook for 2 minutes.
Remove pan from heat and let stand covered until rice and shrimp are done (about 5 minutes).
Remove bay leaf and stir in scallions.