SharonChen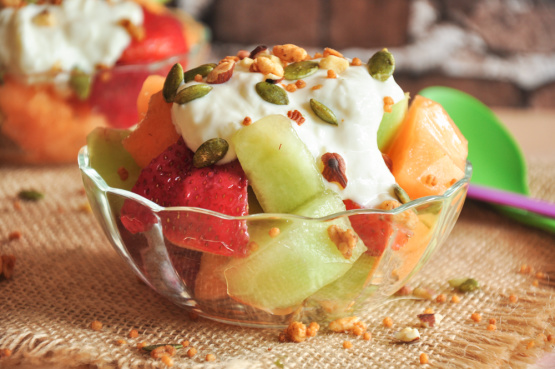 This unusual salad was created for RSC #7. It has an interesting refreshing taste. Hope you enjoy it.

Very nice topping for a fruit salad - ANY fruit salad. I did make a small change in deciding to forego the whipping cream - just didn't feel it was necessary as I liked the flavour of the fruit dip before its addition. Bright, fresh, tangy, with a delicate hint of orange. The dates and pistachios provided textural and taste interest and I will definitely be making this again to serve on a variety of fruit. Thank you!
In a large bowl combine strawberry halves, balled cantaloupes and honey dew melon. Add white sugar and lime juice and toss. Blend well, cover and leave on counter, at room temperature for 1/2 hour. Refridgerate until ready to serve.
In a small bowl mix yogurt, whipping cream and white sugar, orange juice, orange rind, and the finely chopped dates. Blend well and taste. Adjust sugar and orange juice if necessary and chill for 3 hours.
Serve in individual dishes, pour the dip over the top of fruit salad, sprinkle with pistachio nuts and enjoy.