Nif_H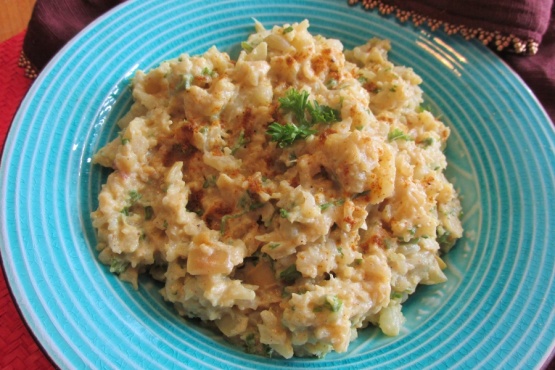 From "Delicious Dips" by Diane Morgan.

Top Review by Nif_H
This dip is so flavourful that I agree that you don't need to use it as a dip - just grab a spoon and dig in! I have used cucumber and plain ol' crackers to enjoy this as well. What a healthy treat!!! Made for my adopted chef for Spring PAC 2013. Thanks rickoholic83!
Fill a 4-quart saucepan with 2 inches of water and bring to a boil over high heat.
Add the cauliflower and 1/4 tsp of the salt.
Partially cover the pan, adjust the heat so the water simmers, and cook the cauliflower until tender when pierced with a fork, about 10 minutes.
Drain completely and transfer to a bowl.
In a small saute pan over medium heat, warm the olive oil and swirl to coat the pan.
Add the onion and saute until soft and translucent, about 5 minutes.
Add the curry powder, remaining 1 1/2 tsp of salt, and the sugar.
Stir constantly until the curry is fragrant, 1-2 minutes longer.
Remove from the heat.
Use a fork to mash the cauliflower into very small pieces.
Add the onion mixture and stir to combine.
Using a rubber spatula, stir in the yogurt, sour cream, parsley, nutmeg, cayenne and a few grinds of pepper.
Taste and adjust the seasonings.
Transfer to a serving bowl and serve immediately.