Prep 20 mins
Cook 1 hr 10 mins
This is an old standy-by for fall. Whenever the acorn squash hit the market we would always ask Mom to make this. We never ate the squash part as kids but loved the meat and rice and sauce. Now, as an adult I get to eat my kids leftover squash shells. Fun meal...hope you enjoy.
Directions
Heat oven to 375 degrees.
Bake halved and seeded acorn squash face down on a baking sheet for 30 minutes.
While squash is cooking mix filling and put in refrigerator until squash is ready.
Mix basting ingredients and set aside.
When squash done cooking, fill with meat mixture, mounding extra on top.
Cover with basting sauce.
There should be plenty leftover.
Return to oven for 40 minutes, basting with extra sauce every 10 minutes.
I usually have extra filling which I cook seperately and extra sauce which I heat in a small pan for safety sake and serve on the side.
Most Helpful
Aren't these just absolutely adorable! I used ground chicken in place of the beef because I had to use it up, and these turned out so delicious! I used sweet dumpling squashes instead of acorn, only because they looked so darned cute in the store, and the fact that they cost $1.20per lb less than the acorn didn't hurt. Absolutely a wonderful keeper recipe that we love!! Thanks for sharing the recipe Jo. Made for Pick-A-Chef Fall 2011.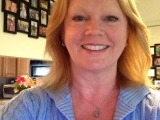 I have been tardy in my review of this one! Just came across it and my KIDS begged for it - remembering it from last fall! I'm not sure they eat much of the squash, but they think they are so cute and love the stuffing. On my way out to the grocery now - I will be buying those beautiful acorn squashes! They are a little work, but not too bad - a nice treat. Thank you for posting.
I got some really strange looks when I brought this to the table, but everybody liked it! It actually took about 1 1/2 hours from start to finish, and it was very simple to make. I'll be making this again. Thanks!