Kats Mom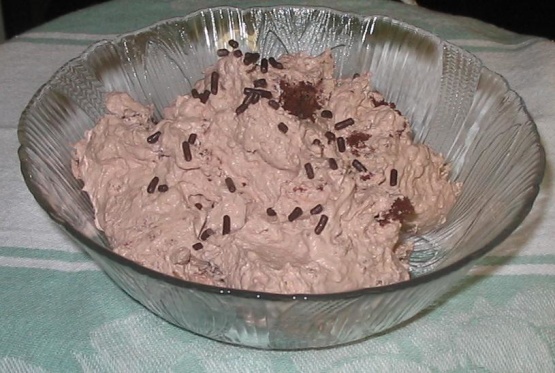 A positively lethal recipe from Hostess to satisfy any sweet tooth. I used Cool Whip for the "whipped cream" and a 4.37 oz box of Chocolate Caramel Chip Jell-o instant pudding. Other flavors of pudding would probably work well too. Refrigeration time is not included, so make this at least one hour ahead. With a little supervision, this would be a wonderful dessert that your kids could make.

Great recipe! Chocolatey and yummy! This would be great with out the ding dongs too. Easy and quick to put together. I used Fat Free Cool Whip to cut down on some fat and calories. The cool whip thickened up nicely after folding in the chocolate pudding powder. I didn't use the sprinkles. I will absolutely be making this again. Thanks for sharing!
Cut each Ding Dong into eight pieces.
Mix whipped cream and pudding in a large bowl until well blended.
Gently fold in Ding Dong pieces.
Cover and refrigerate for at least one hour.
Before serving, add chocolate sprinkles to the top of the dessert or the bottom of the serving dish.