Mika G.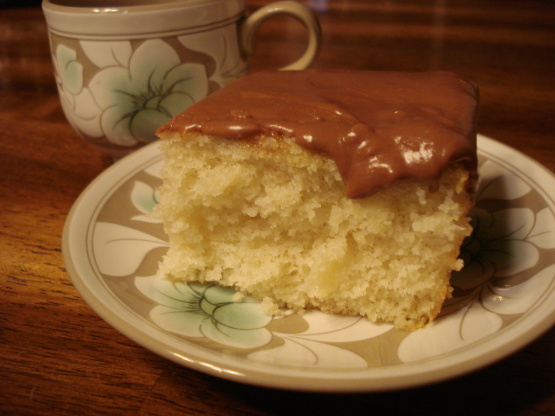 This is a wonderful little cake you can use with either fruit or ice cream. It's also great by itself. I love it because I always have the ingredients on hand for a fast dessert.
I have been using this recipe since I made my first pineapple upside down cake. This cake is the perfect, more dense, a bit heavier just enough to take the addition of the fruits and baking in a cast iron skillet. I have also used it every year for bake sales as cupcakes and these always go first. People even look for them each year! There is just something about the taste. Like Grandma used to make or something. Yes, a bit heavier cake but oh sooooo good. Perfect for fruit additions and for cupcake making. And the best thing of all? Throw it all in at once and mix away!
In a mixing bowl, combine flour, sugar, baking powder and salt. Add milk, oil, egg and vanilla; beat for 1 minute. Pour into greased 9-in square baking pan.
Bake at 350 degrees for 30-35 minutes or until a toothpick inserted near the center comes out clean. Cool on wire rack
Serve with fruit or ice cream if desired.