Diner Meatloaf Muffins (Light)
MsSally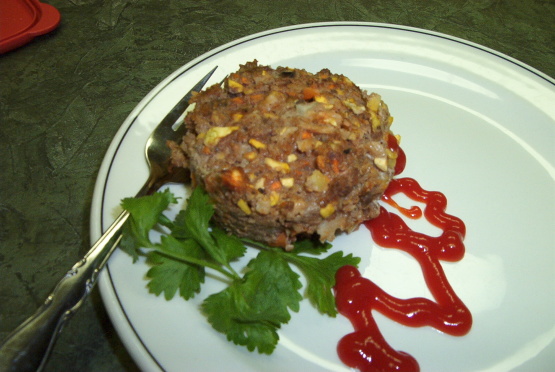 A great recipe from Cooking Light! I love the fact that they are cooked in muffin tins - that way you can freeze easily the leftovers! And it looks cute on your plate!

I did change these up a bit, using 1/2 gr. turkey and 1/2 gr. turkey sausage (2lbs total), quick oats rather than saltines, extra garlic, because that's just me, and left out the black pepper because mom's not fond of it. The fact that it was gr. turkey made them stick VERY badly and cleanup was quit a pain, but that's all my fault, of course. I managed to make 12 reg. sized muffins and 12 baked meatballs to freeze from this, so yay! I'm all about oamc. And, the best part is, my meatloaf loathing mom said they were really good!!!!!!!!!!!!!!! My son and dad of course, raved!
Preheat oven to 350°.
Heat the olive oil in a large nonstick skillet over medium-high heat. Add chopped onion, chopped carrot, dried oregano, and minced garlic; sauté 2 minutes. Cool.
Combine onion mixture, 1/2 cup ketchup, and the remaining ingredients except cooking spray in a large bowl.
Spoon the meat mixture into 12 muffin cups coated with cooking spray. Top each with 2 teaspoons ketchup. Bake at 350° for 25 minutes or until a thermometer registers 160°. Let stand for 5 minutes.