Dilly Sauce for Meatballs
Pamela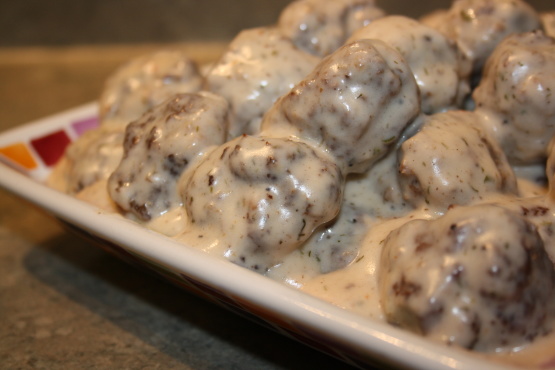 Adapted from Company's Coming Make Ahead Meals by J. Pare.

This recipe was such a hit I have made it twice now for my family. We love it. I don't make any changes and have served over both noodles and mashed potatoes. I would recommend some bread to soak up the yummy sauce with.
Combine all ingredients in a medium sauce pan and whisk until heated through and slightly thickened.
Add meatballs and simmer until meatballs are warm.
To freeze: Double or triple sauce and divide into 3 cup containers or freezer bags. Label and freeze for up to 3 months; Defrost in fridge overnight or in microwave; add cooked meatballs and cook or bake until heated through.