diner524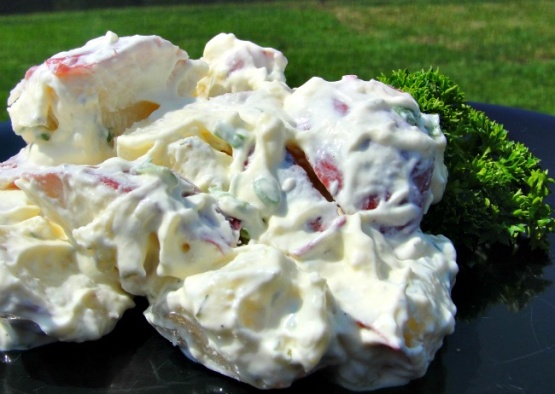 This is a recipe I stumbled upon while surfing the web many years ago. It remains one of the best potato salads I've ever had. A departure from the usual eggs/mustard/pickles type of salad, it is best made with buttery new potatoes. A starchy potato like a Russet is not the best to use because it 1) does not keep it's shape very well when tossed and 2) the starchier the potato the less flavor it has and the more seasoning it needs. Family members have been known to fight over the last serving of this salad!
Wonderful potato salad!!! I made this as written except that I scaled it back to 1/2 of the recipe. The photo doesn't do it justice, but it is so good. I liked using the green onion, not as strong as the regular, and the lemon juice was really good in the dressing. For the leftovers, I added some sliced celery for the crunch factor, yummy. Thanks for sharing the recipe, definitely will make this again. Made for 2013 Spring PAC event.
1. Clean, cut up, and boil potatoes in salted water to cover until tender but not falling apart.
2. Drain and set aside to cool slightly but don't chill.
3. Blend next 7 ingredients in food processor then stir in dillweed. Taste the dressing for seasoning and adjust to your taste. Remember seasonings, especially salt, tend to lose some of their flavor when chilled.
4. Stir in green onions.
5. While potatoes are warm, stir in half the dressing. Chill both salad and dressing until serving time. Just before serving time stir in enough of the remaining dressing to make the salad as creamy as you like it.
6. This salad is best made several hours before serving.