PaulaG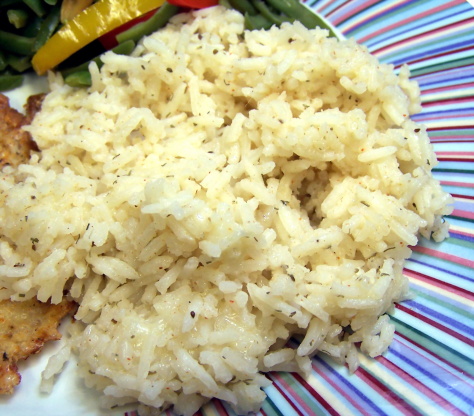 A Justin Wilson recipe. You gon' like dis one I gaurantee! Put here for safekeeping! **Edited after PaulaG's review to add cheese AFTER rice has cooked instead of mixing it in with uncooked rice**

Top Review by sNic23
Lots of flavor! I sauteed 1 cup diced onion instead of using onion powder, doubled the garlic & dill to this and then added 2 Tbs Parmesan & 2 Tbs cream cheese along with the 1/2 C grated cheddar at the end. I used jasmine rice (which cooked much faster) because that's what I had on hand and it turned out wonderfully. I omitted the salt because the cheeses I used had more than enough. We will definitely be adding this one to the regular rotation.
In medium size pot, combine all ingredients except the oil and cheese.
Add enough water to cover the rice and come up the the first joint of your middle finger, then pour on the oil to keep it from bubbling over while cooking.
Bring water to boil until you see craters form in the rice.
Reduce heat to low and cover, 30 to 45 minutes until rice is done. Add cheese and stir.