dicentra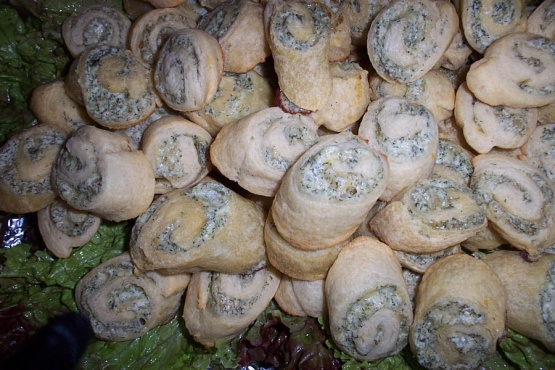 At 4:00 p.m. my friend and co-host announces that the guest list for our New Years party has jumped by 10 or 15 people. Not wanting to make another trip to the store, I begin a little pantry expedition to see if I could up with another appetizer to fill in. Found some crescent rolls but didn't want to do a Mexican or Southwestern flavored pinwheel so I came up with this instead.
2

(8 ounce) packages crescent roll dough

4

ounces cream cheese, softened to room temperature

3 -4

teaspoons dill
3⁄4 cup grated edam cheese
Place cream cheese in a mixer or food processor and cream until smooth. Add dill and Edam cheese to mix and blend.
Open first canister crescent dough and piece together the dough into 2 rectangles pairing the our four triangles together in one sheet and the inner for triangles together in another. Its okay to stretch the dough out a little bit.
Spread a thin layer of of the cream cheese on the dough.
Begin rolling the dough using the long side as the center of the pinwheel. Contine rolling into tube. Wrap tubes with wax paper twisting edges of paper. Repeat with the second roll of crescent dough.
Place both tubes into the freezer for 20 minutes.
Preheat oven to 375 degrees.
Remove dough from wax paper and begin slicing into 3/8 inch pieces. Place the pieces on cookie sheet. Bake 12-13 minutes.
Allow the pinwheels to cool 5-10 minutes before removing from the cookie sheet. If you remove too soon, they will not retain their shape as the cheese will be too hot and soft.
Serve either hot or cold.
(Note cooking time includes freezing time.).