Nif_H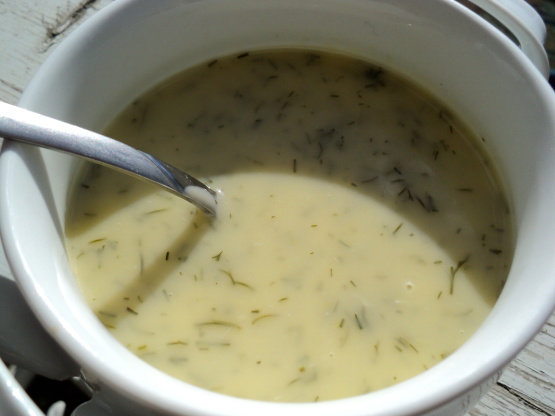 It sometimes seems that everything in Swedish cooking is flavored with dill. While that's not quite true, here is another wonderful example that uses it. Serve this sauce with boiled veal or lamb, over small boiled potatoes, or with fish.

Served alongside smoked salmon, trout and herring. Very nice!
29.58

ml butter

29.58

ml flour

473.18

ml chicken stock (or other stock that suits the rest of your meal)

29.58

ml fresh dill, chopped

22.18

ml vinegar

7.39

ml sugar

1

egg yolk, beaten
In a small saucepan, melt butter.
Add flour and stir until well blended.
Add stock gradually while whisking constantly, then cook over meduim low heat for 10 minutes, stirring occasionally.
Add the dill, sugar, and vinegar.
Remove from heat and stir in the egg yolk.
Season to taste and serve immediately.