Dilled White Bean Salad and Tomatoes
Annacia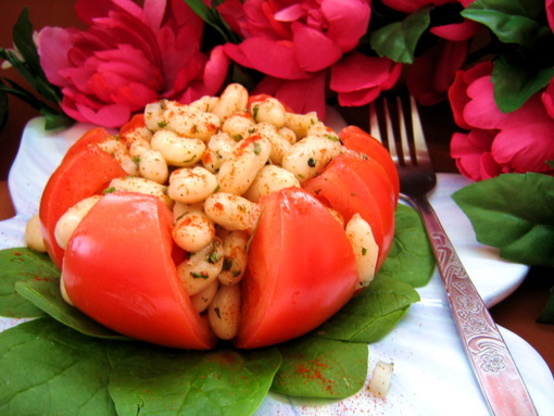 In Eastern Europe beans have many uses, this is an easy salad, can be refrigerated up to two days in advance and put together quickly for a simple light entree.

What a wonderfully fresh tasting (and healthy) dish. I replaced the dill with Italian herbs as I'm not a dill fan and skipped the water because I thought it would dilute the dressing too much.. I was delighted with my lunch. It's so pretty too, it just looks like summer. I can't wait to have this on the deck with a tall iced tea in the sun :D.
In a small bowl, combine all ingredients, except tomatoes. Mix well, cover and chill several hours or up to two days.
Refrigerate tomatoes.
To serve, cut each tomato into six wedges, leaving the base intact. Divide bean sald evenly and pile into tomatoes.
Serve right away.
Preparation time does not include chilling time.