Dilled White Bean and Grape Tomato Salad
French Tart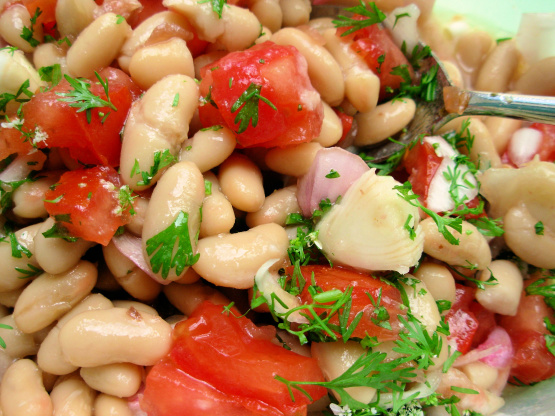 From the June, 2010 issue of Bon Appetite. This is a refreshing summer salad in which the dill and balsamic vinegar truly give a lift. It is best prepared a day in advance, and will keep well in the refrigerator for a few days.
Top Review by PaulaG
Easy and delicious. The recipe was reduced by half and yielded 4 wonderful side servings. I had a ripe locally grown tomato that was small diced and used in place of the cherry. White beans that had been cooked and frozen was used in place of the canned. The salad was made a few hours before serving and refrigerated. As suggested in the recipe it was allowed to sit out for awhile to take the chill off. It went very well with Recipe #137575 and Recipe #16533. Made for Aussie Swap.
Toss all ingredients in a large bowl.
Season with salt and pepper.
Let marinate at room temperature for 1 hour.
Cover and chill.
Return to room temperature before serving.
Cooking time is marinating time.