PaulaG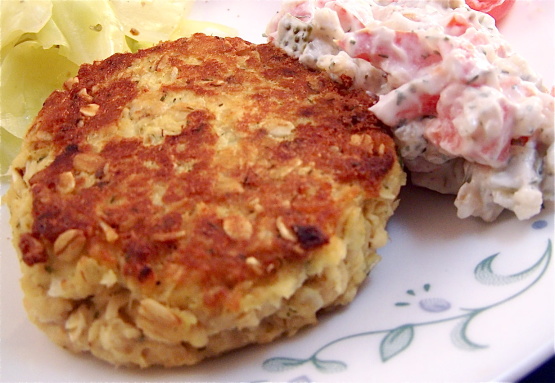 From the costco recipe magazine. Posted for safekeeping.

Delicious! The only thing I did different in this recipe was to add a tablespoon of finely minced green bell peppper to the cakes. In the sauce I used quartered grape tomatoes which I did not seed. I served these with a veggie couscous. Yum Moe!!!
For the Sauce:.
Combine all ingredients in a small bowl and mix well.
Cover and chill while making the cakes.
For the Cakes:.
Combine the salmon, oats, milk, egg whites, onion, dill, and salt in a medium bowl and mix well; let stand 5 minutes.
Shape into 5 oval patties about 1 inch thick.
Lightly spray a non-stick skillet with cooking spray.
Cook salmon cakes over medium heat for 3-4 minutes on each side, or until golden brown and heated through.
Serve with the sauce.