Dilled Pot Roast (Crock Pot)
Peter J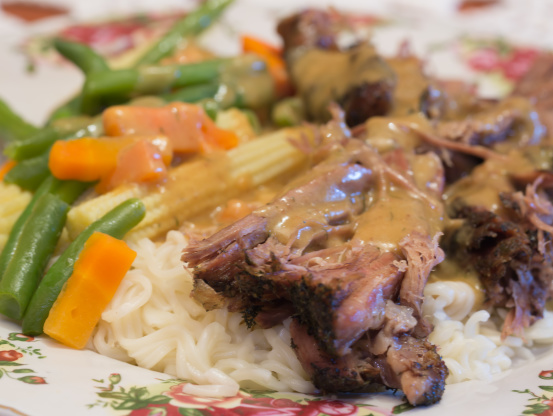 Source: Better Homes and Gardens
Top Review by PaulaG
I love cooking roasts in the crock pot. This was wonderful. I did add in some baby cut carrots and a sliced onion. When I measured the drippings there was exactly 1 cup. I used a brown rice thicker which was added to the liquid first and allowed to thicken. The heat was turned off and Greek yogurt was gently stirred in. It made a very nice sauce for the beef and gluten free pasta. The carrots and onion were served on the side along with Recipe #132757. Made for Aussie Swap.
If necessary, cut roast to fit into a 3 1/2 to 4 quart crockery cooker.
In a large skillet brown roast on all sides in hot oil.
Transfer to cooker.
Add the water to cooker.
Sprinkle roast with 2 teaspoons of the fresh dillweed or 3/4 teaspoon of the dried dillweed, salt, and pepper.
Cover and cook on high heat setting for 5 to 6 hours or on low heat setting for 10 to 12 hours, until meat is tender.
Transfer roast to a serving platter, reserving juices; cover roast and keep warm.
Pour cooking juices into a glass measuring cup; skim off fat.
Measure 1 cup of the reserved juices.
For sauce, in a small saucepan stir together yogurt and flour until well combined.
Stir in the 1 cup reserved cooking juices and remaining dillweed.
Cook and stir until thickened and bubbly.
Cook and stir 1 minute more.
Serve meat with sauce and noodles.