Dilled Green Tomato Relish
sslucero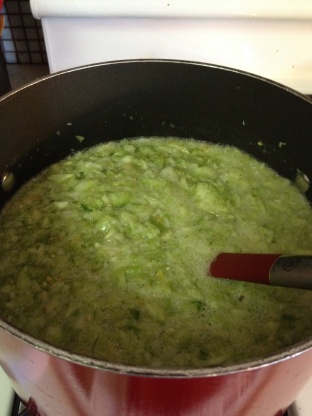 This recipe was actually a mistake and one that my family loved. We used this many years ago when we needed a relsih for hot dogs. This recipe is different than most green tomato relishes as it is not sweet. I am posting this in response to a request.
Pretty good. Instead of using bell pepper I used jalapeno peppers out of my garden. It had a great kick to it. I did think it was a little too salty but my son and hubby love it that way. However I have to admit it I only waited one week to open the first jar so maybe that was why. Otherwise I am saving this recipe.
Cut off steam end of green tomatoes.
Coarsely chop green tomatoes, celery and bell peppers in food processor.
Combine the water vinegar and pickling salt and bring to a boil, add the chopped vegetables and return just to a boil.
Drain, reserving the liquid and loosely pack vegetables to 6 pint jars.
To each jar add 1 clove of garlic and 1 teaspoon dill seed.
Return the reserved liquid to a boil and pour over vegetables to within 1/2 inch of top of jar; remove any air bubbles with clean knife.
Put on cap, screw band firmly tight.
Process in a water bath canner as recommended for your altitude.
Check lids to make sure of good seal.
Allow relish to sit for 4 weeks before using.