Dilled Crab and Mushroom Chowder
Linky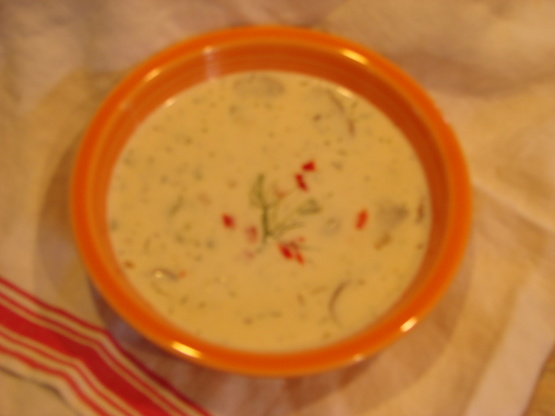 Top Review by Linky
Easy to make and it tasted good, but not out of this world. I followed ingredients and measurements exactly, but subbed chopped onion for the green onion. I think I would use more mushrooms and dill next time, also add some chopped red pepper maybe. (I added a tiny bit for a garnish this time and I liked the flavor.) DH said it was good.
In a 3-quart saucepan cook mushrooms, celery, and green onion in hot margarine or butter until vegetables are tender, stirring often.
Stir in flour and salt.
Add milk and half-and-half or light cream all at once.
Cook and stir over medium heat until mixture is thick and bubbly.
Stir in potatoes, crabmeat, and dill or dillweed.
Heat through, stirring occasionally.
Ladle into soup bowls and garnish each serving with fresh dill, if desired.