Sageca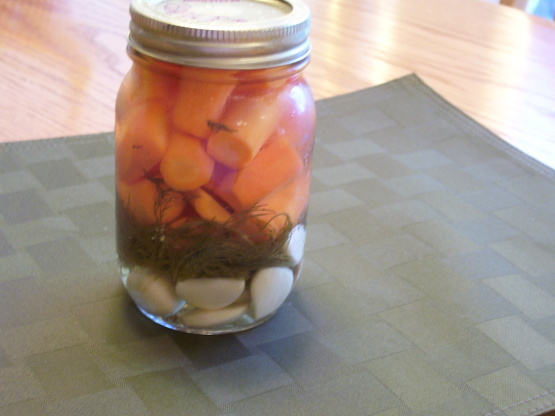 This is the dill carrots recipes you will enjoy.For best results, use small tender carrots. If using mature carrots, peel and cut.We love pickled garlic so we added lots.

Loved these and they only got better after sitting. I used only 2 lbs of carrots to sample the recipe, but I will be making these again! I cut the carrots into a slim french fry cut and stood them on end in the jars. The jars of carrots looked so pretty with the layers and colors. Made for ZWT4.
Peel carrots and cut into 3/4 inch thick sticks, 1 inch (2.5 cm) shorter than jar. To prepare pickling liquid,.
combine vinegar, water and salt in a nonreactive Dutch oven.
Bring to a boil, stirring to dissolve salt. In each hot sterilized jar, place 3 clove garlic, 1 head dill, and 1/2 tsp (2 mL) pepper flakes.
Pack carrot sticks into jars and place a.
second head of dill on top.
Pour boiling pickling liquid over carrots, leaving 1/2 inch (1.25 cm) headspace. Remove air.
bubbles with a narrow rubber spatula or plastic knife.
Add additional pickling liquid, if required, to maintain headspace.
Wipe jar rims thoroughly with a clean damp cloth. Seal.