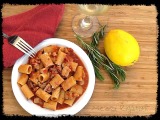 Although there is a lot of dill in this recipe, it's what gives it such a unique taste. Definitely let this sit for awhile before eating cause it gets better the longer it sits.
Directions
Combine all of the ingredients in a large bowl and mix well. Cover and chill for atleast 2 hours before serving.
Most Helpful
Really delicious! Made a half recipe to use up some wonderful fresh dill. Refrigerated overnight and served with crackers. Wouldn't change a thing. Thanks for sharing!

This was super super yummy! I added about a pound of pasta because my family would've eaten it up in ten minutes without extra "filling". Only thing I would change next time is to leave the kosher salt out...But I love the celery salt!!! Thanks so much Elizabeth!