Pamela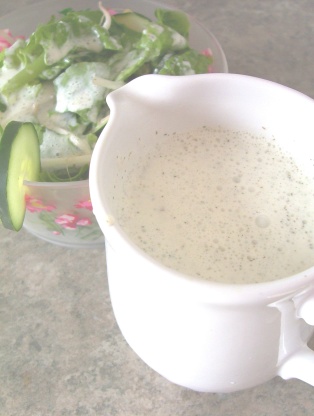 This is a family favorite. It's best served on butterhead lettuce or mesclun. It goes well with alfalfa sprouts. Because it's on the sweet side it doesn't meld well with olives or tomatoes or savoury stuff. If you want to jazz up your salad with this, you can add nuts or raisins or apples.

Top Review by Merlot
What can I say, except this lovely dill salad dressing was superb! I served it over a mixture of butter lettuce and mesclun and a few sprouts. AWESOME! I made it in the morning to allow the flavors to blend. I also think this would make a great dip for vegetables if you use less buttermilk so it is a bit thicker for dipping. Way to go, Rangapeach. It's a winner!
Whiz all ingredients in a blender.
Serve over simple greens only salads.