Dill Ranch Snack Crackers
R.Lynn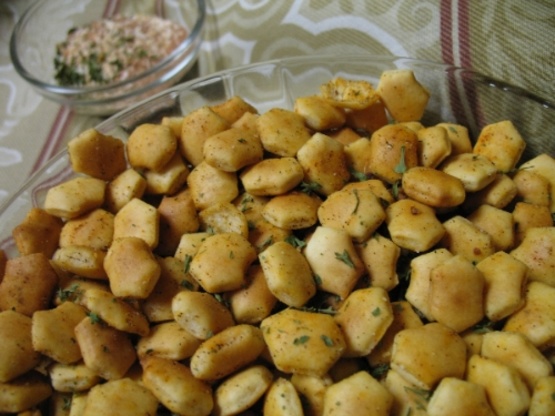 My entire family loves this recipe! My husband got this recipe from a friend at hunting camp, and it is by far a favorite in our home as well as friends and neighbors. It tastes great in soups and salads, and perfect for a grab and go snack! It may sound like it would be oily, but it isn't.

For those who hesitate based on the amount of oil.......fear not it completely disappears. Well, I'm sure it is still there as far a calorie counting goes, but then these are not a snack for those following a low-fat or low-carb diet! They are a nice indulgence now & then and my 8 year old's favorite snack. Enjoy!
2

(10 ounce) bags oyster crackers
3⁄4 cup canola oil

1

tablespoon dill (heaping)

1

package ranch dressing mix (this = 3 Tb. bulk ranch dress. mix)
Dump crackers into big bowl.
In small bowl, stir together the oil, dressing mix, and dill, mixing well.
Pour over crackers, and stir until very well blended.
Over an hours time periodically stir the crackers.
Pour into a gallon ziploc bag.
Enjoy!