KellyMae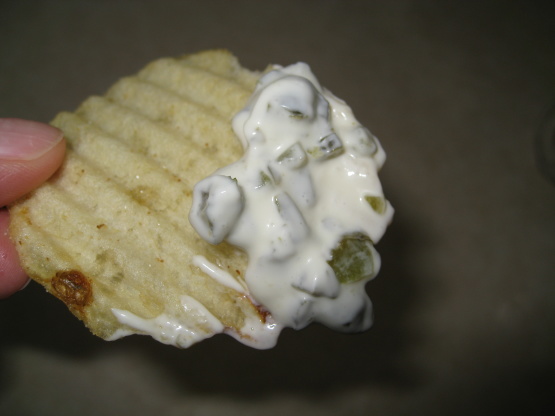 This is in response to a request on the boards. Very simple and tasty chip or veggie dip recipe. I put the chill time under prep time so don't let that scare you.

Top Review by KinMa
8 pickles? Halfs? Wholes? Quarters? Recipe doesn't say. 8 Whole seems like way too much. I used 4 quarters, split them into 3 slices each. Took off skin. Added the pickle juice, and the dip turned to liquid. I also added the mayo. But no Worcestershire sauce as I didn't have it. All it tasted like was sour cream with a hint of dill. So, I added (roughly) a teaspoon of Parsley, teaspoon of Dill Weed, and a couple dashes of garlic powder. 24hrs later the dip is still way too liquidy, but the flavor is pretty decent. Might try making this again without that much pickle juice.
Place all ingredients in a bowl and stir thoroughly.
Refrigerate for 1 hour before serving.