Dill Onion Buttermilk Bread
Nimz1466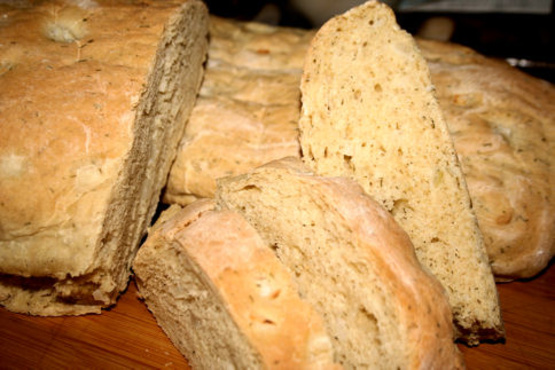 This is the first bread recipe I ever made. It's also my favorite. Prep time includes time for dough to rise.

Delicious! I love onion in homemade bread, and the dill made it even better! Made for PRMR. Thanks!
Make mound of flour directly on counter or table. Make a well in the center for the yeast. Add the other dry ingredients (onion, dill weed, and salt) around the edge. Make sure to keep salt out of the yeast.
Add sugar and the lukewarm water to the yeast. Proof yeast until bubbly.
Mix together the melted butter, egg, buttermilk, and 1 cup of water. SLOWLY add to dry ingredients while mixing with the other hand.
Mix together until it forms a ball that is not sticky or dry. It should be soft "like a baby's bottom".
Put in a greased bowl and cover with a light damp towel. Let dough rise until doubled (about 45 minutes or so).
Punch dough down and separate into 3 medium loaves. Place loaves in greased pans and let rise again for another 45 minutes.
Bake at 350°F for 30 minutes. (I usually check it a little early!).