Directions
Combine rice, lemon peel, dill weed, salt and chicken bouillon in a large bowl and blend well.
Put into to a medium saucepan and add water and butter.
Bring to a boil over high heat; cover and reduce heat.
Cook for 15 to 25 minutes until liquid is absorbed.
Reviews
Most Helpful
I made this rice just as written, and was a great side dish with the orange roughy I made! Light and flavorfull in addition to being simple to make. Great rice, and thank you!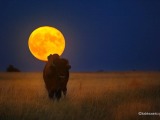 This was absolutely delicious! I wasn't feeling well and I wanted something light and comforting, and this was just perfect. The bouillon granules really give it a great flavor. Thanks for posting this recipe!
Nice rice, which compliments any seafood dish. I used fresh lemon rind and doubled amount. Could have doubled the dill, as well. This was rather salty, so could actually leave the salt out alltogether or at least reduce it. Will have this with fish, again.