Junebug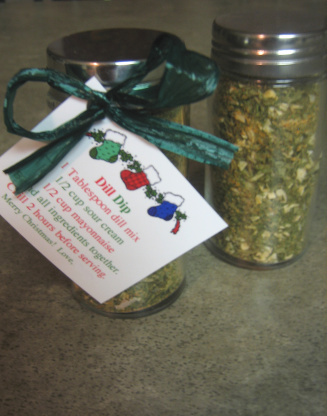 I made this for gifts this past Christmas. I used half pint jars and a sticker on top to tell what to add. And either a red or green ribbon around the mouth of lid for decoration. Made a cute gift and it is easy to make.

I have made this recipe several times. It uses ingredients that are readily available and it's so quick and easy to mix together. The only thing I do differently is I omit the accent and I add 2 tsp garlic powder to the mix. It is good served with fresh veggies or potato chips.
Mix all the ingredients in a bowl.
Put in a pint size jar or containers you want to use.
Attach to the jars these directions:.
Mix 2TBs.
of the mix with 1 cup of sour cream.
1 cup of mayonnaise Mix Well and chill 2hrs before serving.