April T.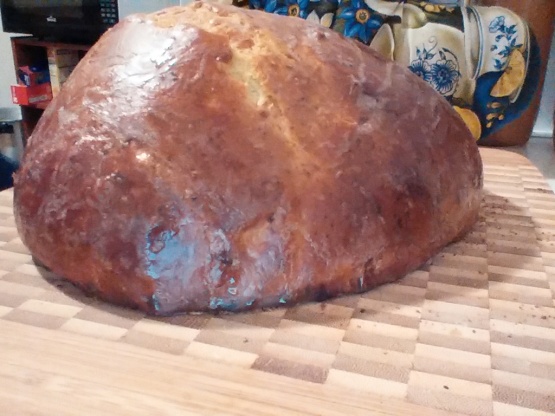 A Russian recipe from the Frugal Gourmet on our Immigrant Ancestors. This is a hearty bread which goes well with stew. This recipe is so easy if you have a kitchenaid mixer. And it's delicious! Cook time includes rise time. I like to freeze one loaf for later.

This bread has great texture, flavor and aroma. It slices up beautifully (I like thinner sliced bread). I ended up using part bread flour as I ran out of all-purpose and didn't want to let my dough sit while I opened up a new bag. Due to oven space constraints, I just baked it in two one-pound loaf pans, turned it out at the end and rubbed the tops with butter. Baking soda breads rise quite high, so I only let it get to barely the tops of the pans and it was perfect. It was very easy to make and it seemed like each rising only took about 45 minutes or so. Next time, I will have everything measured in the mixer bowl before I start the yeast. I was gathering all of the other ingredients and suddenly noticed I had a yeast volcano going!! This would make a great gift bread because it makes two loaves. Kaarin, thank you for the wonderful recipe! It's a keeper!
Dissolve the yeast in warm water; let sit till foamy.
Combine yeast, melted butter, sugar, cottage cheese, onion, dill, soda, salt and 2 eggs in a large mixing bowl.
Add 2 cups flour.
With a dough hook or by hand, knead in remaining flour. Only add the last 1/2 cup flour if the dough will not pull away from sides of pan after kneading for about 10 minutes.
Cover and let rise until double.
Punch dough down and let rise again.
Finally, knead the dough by hand until it is smooth and elastic.
Shape into 2 round loaves and place on cookie sheets sprinkled with cornmeal.
Let rise until double, then brush with egg yolk beaten with 2 tablespoons water.
Bake at 350 degrees F for 45-50 minutes until golden.
The bottoms of loaves will sound hollow when tapped.