Dill and Garlic Shrimp Skewers
KateL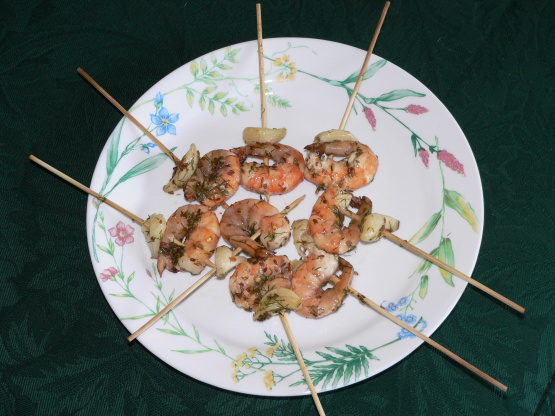 Gourmet. Jan 1990. Note marination time.

Top Review by KateL
3 Stars, due to aggravation factor, cooking time way off for me, took about 10, turned shrimp. Used 6" skewers, which were long enough. This hogged refrigerator in Oxo mixing bowl for 3 hrs marination. My shrimp were somewhat chewy. DH really liked the taste, but we have lots of easier, tastier and healthier ways to prepare shrimp; this time Gourmet let me down. Submitted photos of marination set-up and final product. Made for Healthy Choices ABC 2008.
In a saucepan of boiling water boil the garlic for 15 to 20 minutes, or until it is tender but not soft, drain it, and discard the peel carefully, leaving the cloves whole.
In a bowl whisk together the dill seeds, the fresh dill, the lemon juice, and the red pepper flakes, add the oil in a stream, whisking, and whisk the marinade until it is emulsified.
Onto the end of each skewer thread a shrimp and 1 garlic clove.
Arrange the skewers, shrimp end down, in a bowl just large enough to hold them. Pour the marinade over the shrimp, and let the shrimp marinate, cover loosely and chilled, basting them occasionally, for 3 hours.
Drain the shrimp, arrange them in a shallow baking pan, and bake them in the upper third of a preheated 425°F oven for 1 to 2 minutes, or until they are just cooked through.