Dijon-thyme Baked Chicken Breasts
ImPat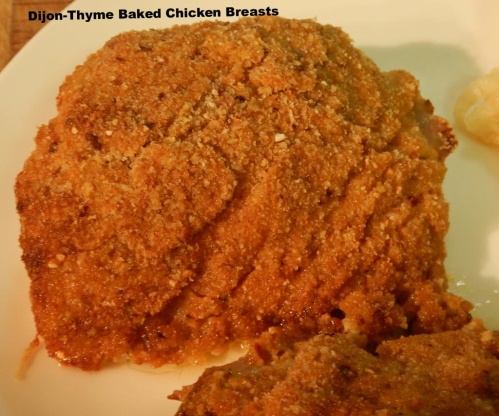 Easy one! Don't know where the recipe came from!

I did this recipe over the Memorial day Holiday and it was a hit, I did make a couple of slight changes, we used honey mustard in place of the Dijon. I am a Thyme lover but also added a bit of sweet basil. I finished with a very slight gloss of tangy BBQ sauce for Memorial day, my kids loved it.
Combine butter, mustard, onion, garlic, thyme and pepper flakes in a bowl.
Dip chicken pieces into this mixture to coat then cover with bread crumbs.
Place in a greased baking dish 11" X 7" X 2" and bake uncovered, at 350 degrees, for 30-35 minutes or until chicken is done.