Bergy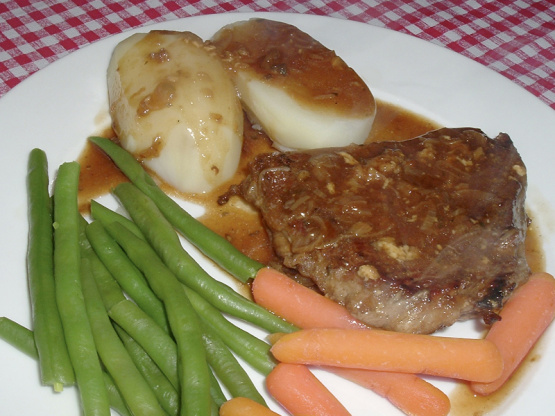 A perfect quick meal for a rushed day. Your family will think you've been in the kitchen for hours! Dijon adds a delightful flavor to this favorite dish.

I am a silent regular, I love my family above all else and live in an area where everyone (except me) is rich and thinks cooking dinner for their family means heating up microwave frozen entres. Thank-you so much from a Mom who's children critize everthing I cook and complain when I don't. This was easy, differnt from our ususal fare and delicious. DH says I can make again and again. I added a silly can of mushrooms 'cause we love um, didn't do another thing different except adjust for a family of six. Thanks :-) LoriAnnGK3
Melt butter in large skillet.
Brown steaks quickly on both sides.
Remove, set aside.
Reduce heat; add gravy, half-and-half and mustard to skillet.
Heat, stirring, till bubbly.
Return steaks to pan with gravy.
Turn heat down; cover and let simmer about 30 minutes, or until done.
(add water if necessary) Sprinkle fresh parsley over steaks just before eating.