ChefLee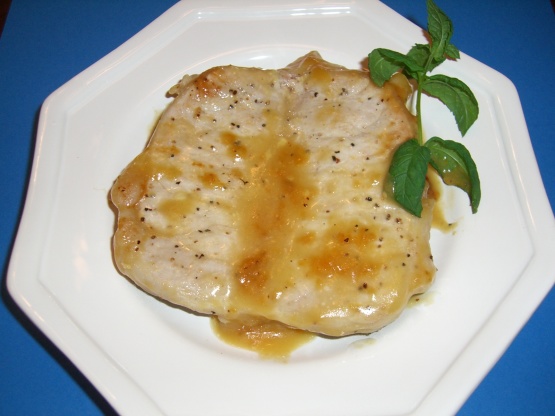 Chops go very well with an orange flavour and they go very well with a dijon flavour. Combining the two with chops works well in my opinion. A little hot sauce might not be a bad idea either.

Oh my goodness this is good! I'd definitely give it more than 5 stars if I could. After reducing the recipe to 1 serving, I was really wishing I had made more. I used OJ concentrate but think I'll dilute it just a tad next time. The cooking time was perfect but my lid wasn't tight-fitting, so the sauce thickened a little too much. Stirring in a splash of water took care of that, tho. One thing that should be noted is that lemon pepper is mentioned in the instuctions but is not listed with the ingredients. I'm not convinced it's essential to the dish, tho. Thank you, Tebo for this fantastic recipe that I plan to fix again and again. Update: Fixed this using a boneless chicken breast but otherwise followed the recipe. Very, very good!!!
Combine orange juice, dijon, honey and cornstarch.
Heat oil in frying pan.
Season chops with lemon pepper.
Brown over medium-high heat 3 minutes per side.
Pour orange juice mixture over chops.
Reduce heat to medium-low.
Cover and simmer 8 to 10 minutes.