JustJanS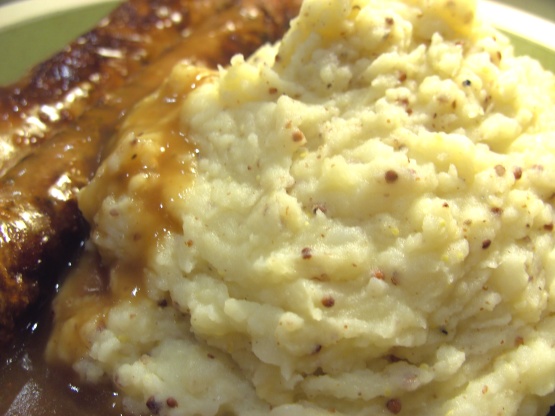 I experimented a bit and came up with this variation of mashed potatoes.

Oh yum! Adult comfort food! I have a super grainy Dijon that I got as a gift that everyone in the family is scared of except for me. Perfect for this recipe. However, I have one complaint: 1/8 cup of butter my fat Aunt Fanny! I doubled the butter, doubled the Parmesan, wow!
Cut potatoes into quarters, cover with water and optional garlic and boil until tender- I used red potatoes with skin on.
Alternatively, steam potatoes and garlic together.
Just before potatoes are done, combine milk, Dijon mustard, garlic, salt and pepper until well mixed in a microwave safe bowl.
Cover and heat in microwave for about 2 minutes, stirring half way until heated through.
Drain potatoes, return to pot and mash lightly.
Add butter, salt, pepper and mash again.
Slowly add hot milk and mustard mixture, mashing until the potatoes are creamy and your preferred consistency.
Add Parmesan cheese, mix and serve!
NOTE- make sure you get some of the mustard grains in when you mash the potatoes.
The grains may separate a bit if you pour the milk mixture in, so you might want to spoon in the milk and mustard mixture.