Dijon Crusted Grilled Potatoes
racrgal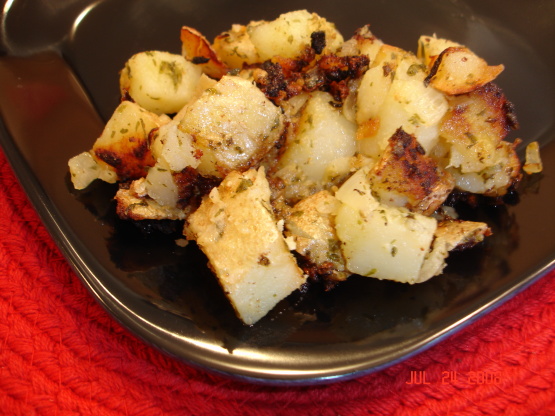 Super Easy, Yet Super Delicious!

DELICIOUS! This is not "just another grilled potato" recipe. It's a great grilled potato recipe. Easy is the right word too. The dijon is very subtle and melds wonderfully with the other flavors. I always used fresh garlic and seasoning salt. (For whatever reason I hate the smell of garlic salt or powder. Love garlic though.) I don't grill in foil but did cook these on the grill in a small Corning Ware casserole dish. Very easy to remove the lid to stir and they potatoes still browned beautifully. Thanks for a great recipe SimplyMe
5 -7

large red potatoes
3⁄4 cup butter

2

tablespoons Dijon mustard

1

medium onion, sliced thin

1

tablespoon parsley

1

teaspoon garlic salt
salt and pepper (to Taste)
aluminum foil
Clean and microwave potatoes for at least 5 minute (this makes them easier to handle, and then takes them less time to cook).
Wait 5 min after heating and cut potatoes into 1in cubes, set aside.
slice onion, set aside.
in medium bowl melt butter, mix in dijon mustard, parsley. garlic salt, onions and potatoes, makes sure they are evenly coated.
make an aluminum foil pouch, pour in potatoe mixture, seal pouch by rolling sides together (you may place this pouch into a small disposable aluminum pan so they dont leak).
heat grill on medium heat, place potatoes on grill cook for about 20-25 minutes (you may need more time), opening pouch and stirring mixture occansionally, i usually let mine go for a couple minutes more because i like when they get a little crispy.