Dijon Chicken Mushroom Stroganoff
Boomette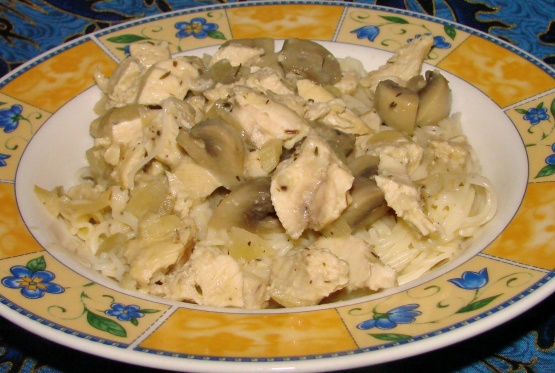 This is a delicious low-fat version of stroganoff. It comes from Cooking Light magazine.

I liked this recipe, but like many other reviewers, made some changes. Because I had to go to work, I combined a can of low-sodium chicken broth, the onion, garlic, salt, pepper, and thyme in my slow cooker, and then added two bone-in chicken breasts. I cooked this on low for 3 hours. When I got home, I removed the chicken breasts from the slow cooker and poured the cooking liquid into a skillet. I heated the liquid to a boil over med-high heat and added 2 tbls of honey mustard (we were out of dijon) while I chopped the mushrooms and cooked chicken. I sauteed the mushrooms in some olive oil, then added them and the chopped chicken to the sauce in the skillet. Finally, I added plain non-fat Greek yogurt as a substitute for the sour cream, and let it all reduce for 15 minutes. This was great served over rice.
Combine broth, water, onion, mustard, thyme, salt, pepper, garlic and mushrooms in a skillet.
Bring to a boil.
Cover, reduce heat and simmer for 5 minutes (do not be alarmed by curdling of liquid).
Arrange chicken in a single layer in the skillet, cover, and simmer for 15 minutes (do not boil).
Remove chicken from skillet, cut into smaller pieces, and keep warm.
Bring liquid left in skillet to a boil and cook, uncovered, for 15 minutes or until reduced to 1/2 cup.
Remove from heat and let cool slightly.
Stir in sour cream.
Return chicken and juices to skillet, turning chicken to coat.
Serve with noodles.