Dijon Caper Chicken and Pasta Sauce
teresas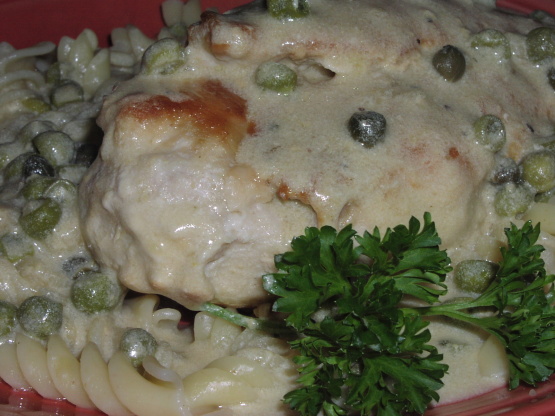 After trying an old Dijon recipe; I came up with one of our family favorites. I added capers and peas. My family loves it and I get great reviews everytime I serve this dish. It can also be used as a pasta sauce.

I cut my chicken up into pieces so it would be easier to eat with the pasta. Loved the sauce....increased the Dijon and capers just a tad. Also added freshly ground black pepper. My son hates tomatoes, so we left those out, and I'm not sure that I'd want to add them next time. This was delicious and we really enjoyed it tonight. Thanks for sharing! Made for 123 Hits!
Melt butter or olive oil in a large skillet.
Add chicken breasts and cook until done and lightly browned, about 20 minutes.
Remove chicken to a warm serving platter.
Stir flour into pan drippings in skillet, cook for 1 minute.
Add the chicken broth, half and half.
Stir and cook until the sauce thickens and bubbbles, add in mustard, capers and frozen peas.
Return chicken to skillet, cover and heat for 10 minutes.
Garnish with tomatoes and sprinkle with parsley.
We typically serve with tortolini or other pasta and cover with extra dijon sauce.