Parsley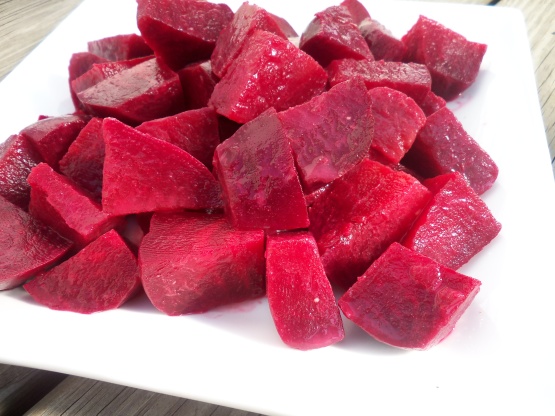 0 grams of fat and so good! These are great with many different meals-beef, chicken,etc. Very colourful-elegant-HEALTHY!!!

DELICIOUS! These are so yummy. I used half the amount of sugar because of the natural sweetness of the beets. The heat from the Dijon, the acidity of the vinegar & lemon, and the earthiness of the beets make a divine combination. Can't wait to see how good these are tomorrow after marinating overnight. Thanks for the awesomely addicting recipe!
Wash beets.
Cut off tops.
Put beets in a pot with water to cover them.
(If desired, you can also wash the beet tops and cook them in the same pot with the beets for another meal-they are wonderful!) Bring beets to a boil, covered.
Cook until tender when pierced with a fork.
Drain and cool.
Slice beets into 1/4 inch slices.
Combine remaining ingredients.
Pour over beets.
Stir to combine.
Serve warm or let marinate in the fridge for a couple hours.