Different Green Bean Casserole
Parsley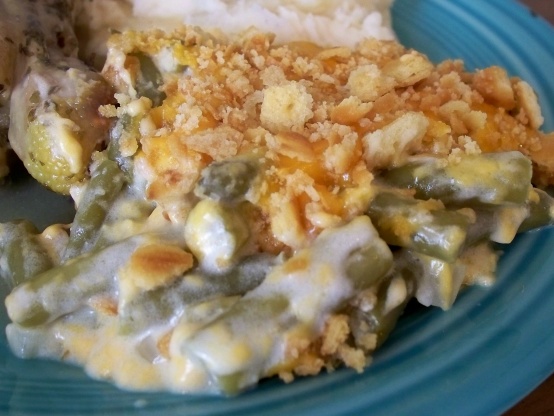 No mushroom soup or french fried onions in this one!

This was a nice simple recipe. Made as written and the kids loved the fact that their was onions in it. Great cheese flavor. Just enough. Made for 1-2-3 hits.
Preheat oven to 350°.
Melt 2 T butter in a skillet over medium heat. Stir in flour until smooth, and cook for one minute. Stir in the salt, sugar, onion, and sour cream. Add green beans, and stir to coat.
Pour mixture into a 2 1/2 quart casserole dish. Spread shredded cheese over the top.
In a small bowl, mix Ritz crackers with 1 T butter; sprinkle over the cheese.
Bake for 30 minutes until the top is golden brown.