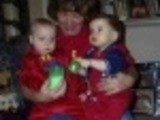 This fish is made special and different because it has a touch of ketchup in the biscuit mix coating. Cooking time is fairly active, but short, as you must watch and turn the fish.
Directions
Dip the fish in the egg beaten with water, then into the biscuit mix which is blended with the ketchup.
Fry slowly in the heated oil, (about 1/8" deep in skillet) turning at least once, until the fish is golden brown on both sides (about 8 minutes).
Serve with lemon for spritzing.
Most Helpful
Good fish but my topping fell off - however this may have been my fault using the wrong type of fish - I used catfish that was on the thick side - I think this will work a lot better with flounder or sole fillets. Thanks for sharing!
This came out very nicely and my husband liked it alot! It was easy and quick, my type of recipe! Thanks Trisha!