Different Cinnamon Sugar Toast
BarbryT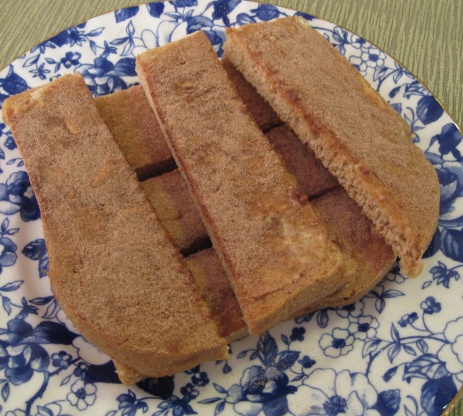 Instead of butter I use cream cheese on cinnamon sugar toast. Its awesome...I've had my best friend hooked on it for many years.

Oh so so yummy!!! And sooooo simple it's dangerous for us people who have cravings for sweet things and are on a diet lol But thanks for the recipe! I'll try not to eat this too often although i'm not sure i'll be able to.
2

slices bread (Whole wheat is the best.)
cinnamon-sugar mixture (I prefer my mixture to be very light brown, more sugar than cinnamon)
Toast bread.
Spread cream cheese over bread.
Sprinkle cinnamon sugar mixture over cream cheese.
Eat!