Different Chocolate Chip Cookies
89240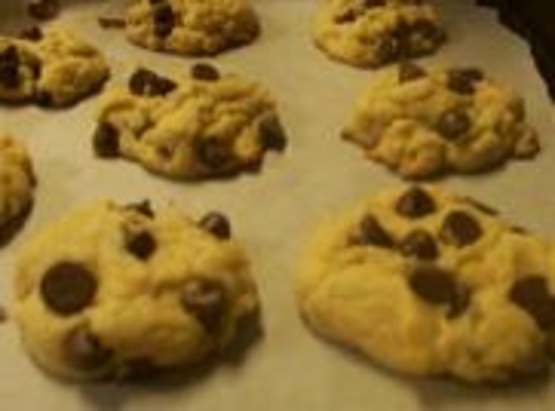 This recipe is loosely based on The Best Chocolate Chip Cookies #57889 by Luvfood. I usually don't like nuts in my chocolate chip cookies, but I think you could easily add them. I should also say, do not forget the last pan in the oven, they WILL burn. I know this from experience.

The taste on these cookies is fine, and the chocolate chips 'jump out' just like the pictures show. The reason that is, is because there is oil only, and no butter in this recipe. For that same reason, they also don't really brown well Or, do they get crispy around the edges like I wanted. They are very moist, though, and if that's what you're looking for, then these cookies are for you!
Mix sugars and oil.
Add eggs, one at a time, beating after each.
Add vanilla, mix well.
Sift together salt, baking powder, and flour; add to wet mixture gradually.
Stir in chocolate chips.
Refrigerate at least 30 minutes.
Drop by spoonfulls onto parchment lined baking sheet.
Bake at 350 for 8-12 minutes depending on your oven and desired doneness.