VickyJ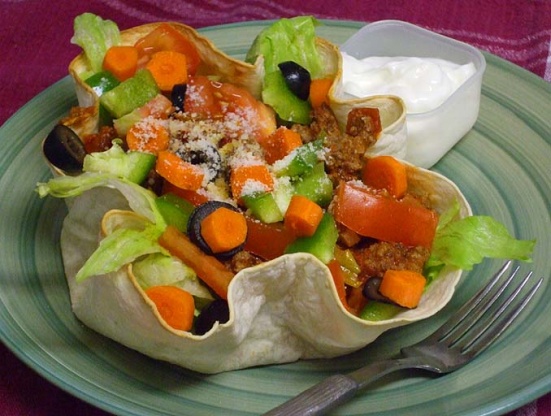 Top Review by VickyJ
Hello there, Pixie. I made this tonight for dinner and am in the process of devouring it! This was made for one serving. It is sooooo good, and good for you!! There were a few subtle changes in the recipe.... I didn't shred the lettuce or the carrot and put the lettuce in the tortilla bowl, instead of on the plate. I also didn't have cherry tomatoes, so I used 1/2 of a small tomato and sliced it in chunks... pressed for time. There were sliced black olives in the fridge, so I threw a few of those on top. On the side was, lite sour cream. Thank you for an amazing and tasty recipe! Another thing I have to add... I didn't warm my tortilla in foil. I warmed it in the microwave for 20 secs (ovens vary) and placed it in a greased small casserole dish. That was baked for about 5 min @400 F.
Cook beef, onion, and 1/4 cup of green pepper till beef is brown; drain.
Add next 7 ingredients.
Bring to boil; reduce heat.
Simmer 15 minutes.
Warm foil-wrapped tortillas in a 350F oven for 10 minutes.
Spray 4 10-ounce casseroles with nonstick spray coating; press 1 tortilla into each.
Bake in a 350F oven for 15 minutes. divide lettuce among 4 plates.
Place a tortilla on each plate.
Spoon beef mixture into tortillas.
Top with remaining green pepper, tomatoes, carrot, and cheese.