flower7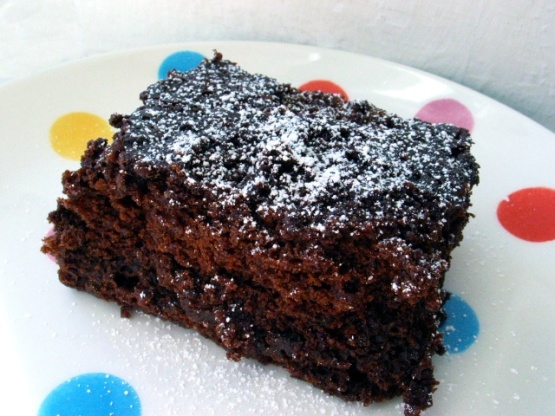 My sister gave me this recipe. I was skeptical, but it was pretty good! I dusted the top with powdered sugar and served with ice cream and chocolate syrup drizzled on top. The calories Zaar calculated is off, but basically it will be whatever is indicated on the brownie mix package since all you're adding is diet pop. Any pop will do of course, not just Pepsi.

Really great idea for brownies! I did it a bit different than the recipe, but the basic idea was the same!<br/><br/>I had an 18.22 oz box of dark chocolate brownies. I just added diet lemon-lime soda (I like it b/c you can't taste it in the brownies) until it had the consistency of regular brownie batter. I did NOT pour it into a measuring cup b/c that takes all the fizz out and flattens the brownies.<br/><br/>I used a 13x9 inch pan. They had to bake a longer than the box said. I let mine bake for about 20 minutes, then took them out and checked (still too gooey), and then put them on a lower rack and let them bake for 5 more minutes, then turned off the oven and let them sit in the still-warm oven for ~10 more minutes. This lets them cook without burning the edges.<br/><br/>They turned out moist, not too cakey, and delicious! And they were only 100 calories for a 5 or so square inch brownie. My batch made 20 brownies.
22

ounces brownie mix (or any standard size box)

10

ounces diet pepsi (1.25 cups)
Mix ingredients.
Pour into an 8 x 8 glass baking dish.
Cook at 350 degrees for about 30 or 40 minutes or until tooth pick comes out clean.
Optionally dust with powdered sugar.