Diet Friendly Veggie Overload Lasagna
Debbwl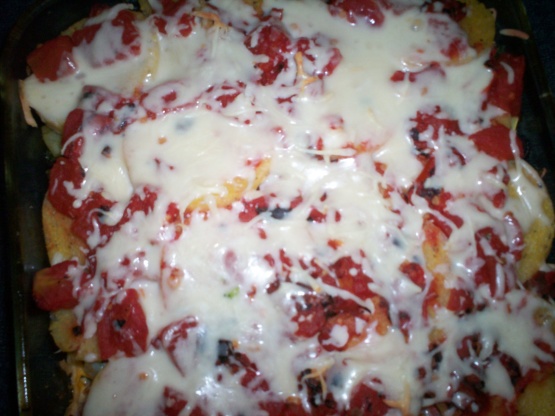 I came up with this recipe because I wanted to be able to enjoy lasagna but I didn't want all the calories, carbs and fat usually associated with it. It is loaded with so much flavor that you don't miss the extra pasta and cheese! Serve it with a big tossed salad and you have a very healthy meal that is waistline friendly...it is also a great way to get some extra veggies into the kids diet.

Top Review by Debbwl
Love how healthy, and light this lasagna is. Was forced to make two changes when I started to put it together no lasagna noodles (oh crumbs) so used sliced bake polenta in place of noodles (yum) and used fat free cheese (thus it did not brown as fat free cheese tends not to brown). Resided the urge to use more cheese as one of the biggest reasons I picked this was because it was so low in fat. Will defiantly make aging. Thanks for the post.
Preheat oven to 375 degrees.
Pour enough sauce to cover the bottom of an 8x8" baking dish; about 1/3 of the jar.
Sprinkle grated carrot and chopped onion over sauce in bottom of dish.
Top sauce with two of the Barilla noodles.
Layer the slices of zucchini, summer squash, and mushrooms and spinach over the noodles.
Sprinkle the broccoli, bell pepper, fresh basil and sliced olives over the spinach leaves.
Top with half cup of the mozzarella cheese.
Pour 1/2 of the remaining sauce over the mozzarella cheese and top with the last two lasagna noodles.
Pour the last of the pasta sauce over the top noodles and spread out evenly.
Top with the the last of the mozzarella cheese.
Cover the baking dish with foil and bake for 40 minutes.
Remove foil and continue to bake an additional 10-15 minutes until cheese is melted.