Diet Friendly Lemon Cookies
Boomette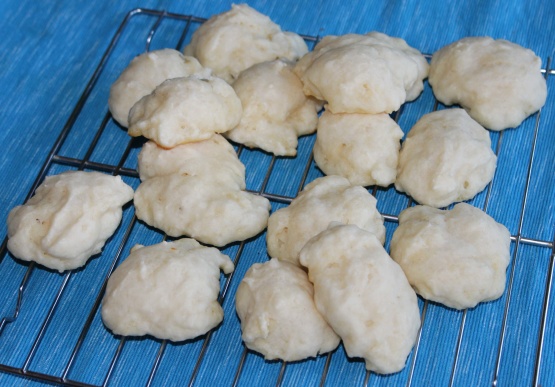 These cookies are super quick + easy to make, and you can eat quite a few without feeling guilty! Great to have around if you love to snack on cookies but don't want all the calories of regular cookies. ** NOTE: I use an organic lemon 'flavor' from Whole Foods made from sunflower oil. I haven't tried this recipe with regular lemon extract.
The texture was sticky. I wasn't too sure about the result. But when they were cooling, DH asked me where I put the cookies because he took one and told me they were so yummy. They are really yummy. Moist and with a great flavor of lemon. I used Club House lemon extract. Thanks s. anne :) Made for PAC Fall 2012
Whisk egg whites, soy milk, spray butter, and lemon flavor + juice together in large bowl. Mix in sugar substitute.
Whisk flour, baking powder and salt together in small bowl. Add to egg white mixture.
Spoon 1 inch cookies onto nonstick cookie sheet. Sprinkle tops with colored sugar.
Bake at 350 degrees for 7-8 minutes.