Annacia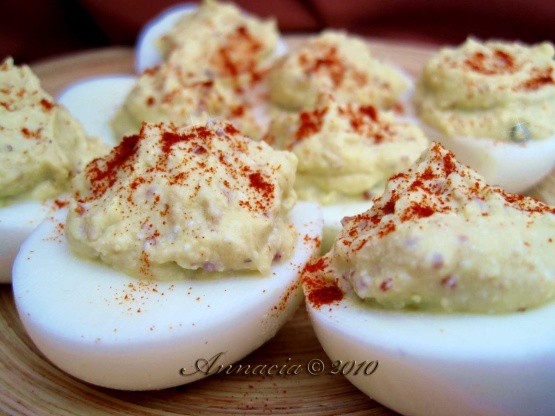 Inspired by my hubby's latest diet. His own personal idea of blending south Beach and low fat. Thus I was tasked with developing a deviled egg recipe that didn't overdo it on the mayo and was still low-carb. These are really yummy!

I had hard time deciding on the rating for this recipe. To be honest it had more bite back than we prefer. DH took a tiny trial nibble, he puckered up like it was pure vinegar and was done. In all fairness, DH is a flavor wimp and wants things bland or sweet. On the other hand I enjoyed the overall concept and flavor and I will make again with a lighter hand on the lemon juice and mustard (I used grainy Dijon).
Peel hard-boiled eggs, halve and remove yolks to a bowl.
Add remaining ingredients except for paprika.
Blend thoroughly. I use an immersion stick blender. You could use that or hand-held electric mixer. But you want something to make it creamy and take away texture of cottage cheese.
Fill egg halves and dust with paprika. Enjoy!