Lazarus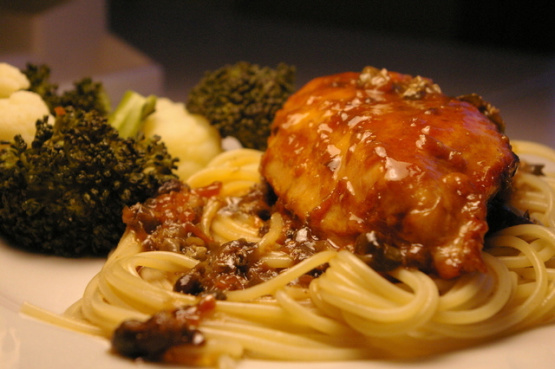 lower cal because it's cooked with more olive oil and less butter but it's so good that it tastes like the real thing!

I followed this recipe exactly as written, and mostly enjoyed the result. The flavour was very good. In my opinion, however, there was a LOT of olive oil in this dish that didn't need to be there. The recipe did not indicate that the olive oil was to be discarded after frying the chicken, but it probably should have. If the oil is intended to stay, it could easily be cut in half, or even quartered. The result was some very oily, but delicious, chicken and pasta. The flavours were well blended. The lemon, wine and capers co-existed very well in the sauce. I'll definitely make this again, but with the changes mentioned above. Made for PAC Spring '08
start off by splitting the wine, lemon juice and capers exactly in half into two bowls. The reason for this is to gradually add this mixture and allow the chicken to absorb the wine and lemon flavor which still keeping a thin sauce.
melt the butter in a large saucepan and add the olive oil. pan fry the chicken breasts being careful not to burn them. the key to the healthy aspect here is to not bread the chicken but just pan fry the chicken itself.
crush 4 cloves of garlic and add to chicken.
add 1 bowl of the halved mixture of wine, lemon juice and capers to chicken and garlic. Saute for 15 minute.
Add second bowl of wine, lemon juice and capers to chicken. Saute for 20 minute.
Pour chicken and wine/lemon sauce over angel hair pasta and serve with garlic toast.