Died & Went to Pimento Cheese Heaven (Pimiento)
Parsley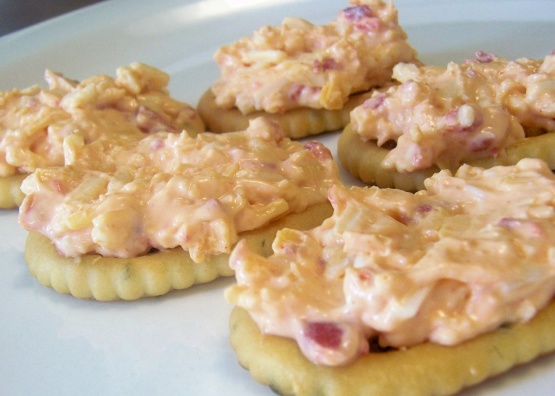 A true Southern delicacy! I didn't know I even liked Pimento Cheese! This stuff is addictive... so addictive I am having a lock installed on my refrigerator (not to keep me out - but in case the neighbors find out!). I have picked at Pimento Cheese spreads at parties and potlucks but never have the desire to make my own... and then I was asked if I would make a batch for a friend...This is a cross between her mom's recipe and my creativity. Great on Celery Sticks, Crackers, Bread... even straight out of the bowl! Even picky four year olds liked it!

Try this as the filling for a grilled cheese sandwich.....or top a burger with it! Oh yeah, here in the South we know how to use some pimento cheese!
Using a hand held mixer, beat cream cheese until soft.
Add the remaining ingredients and beat until creamy and combined.
Cover and refrigerate for about an hour.