Rita1652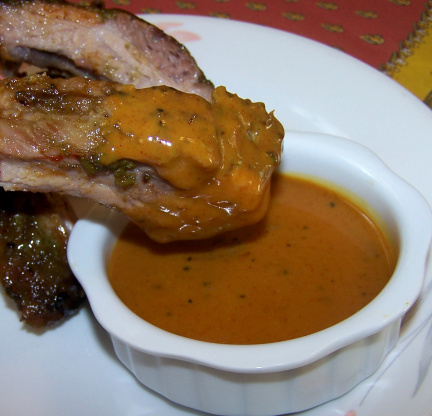 This is a sweet, tangy, very bold sauce. It lends itself especially well to grilled chicken, baby back ribs, and even grilled fish. It goes well with any smoked meat, and even adds nice zing to baked beans. While it may not be the only BBQ sauce you want in the fridge, it definitely has a place there. If you like bold flavors, this is a must sauce.

Bold and tangy this is! I enjoyed this for I never had a mustard based BBQ sauce before. Looking at Red Apple Guy`s picture makes me wonder why mine came out so much lighter? The only change I did was use chipotle chili powder and it was rich dark red. I feel the vinegar could have been cut back a bit. I served this on ribs. But can`t wait to use it on grilled chicken even hot dogs!!! Thanks for the goodness.
Combine all but last 2 infredients.
Simmer and stir often for 30 minutes.
Add soy sauce and butter.
Stir until butter is melted.
Use as described in the description above.
Store refrigerated.